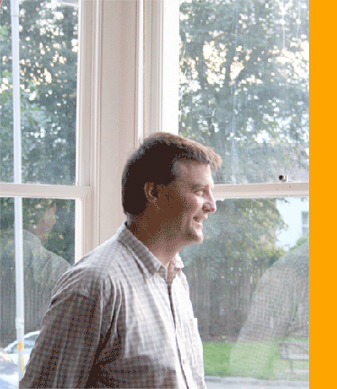 My Training and Current Practice

I have now worked as an Alexander Teacher for twenty four years. I trained with Walter Carrington, who was also trained by F M Alexander. He worked as Alexander's training assistant and carried on running the course after Alexander's death.

I also work on two Alexander Teacher Training courses, as an Assistant Director at LCATT, the London Centre for Alexander Technique and Training, in North London and as a teacher at the Alexander Technique Studio in Wandsworth.

I am currently finishing my training as a cranio-sacral therapist. My private practice is based in Finsbury Park.

In my practice room

I never planned to be an Alexander teacher.

In fact I had dabbled as a medic and a few other things along the way, but nothing really inspired me. Then life conspired to introduce me to people who were training to be Alexander teachers and I met the man who was their tutor: Patrick MacDonald, who was trained by F M Alexander himself.(click here for information about F M Alexander).

I had what seemed to be a very simple treatment from him and left feeling loose limbed and relaxed. To my great surprise, this continued for several days, even though I was a dispatch rider at the time which was very stressful on my mind and body. This very positive experience was surprising to me and totally exceeded my expectations.

Since then, and over the last twenty years, I find that Alexander training awareness, helps me to do heavy physical work without tiring or straining myself and has had the most uplifting effect on my mood. It lets me feel the deep and inextricable connection between the state of my body, and all of my thinking, attitudes, perception and emotions. I feel how my reactions affect the relationship between my emotional and mental states, and my physical balance.

All this has had the effect of giving me more confidence, and a greater clarity of purpose, because I am no longer so susceptable to my negative habitual ways of reacting. I am less controlled by anxious habits, so I have more sense of ease, choice and freedom of action. I am more able to cope with pressures instead of succumbing to stress.

As a keen swimmer and cyclist I get even more enjoyment out of my swimming and cycling using the Alexander Technique, because I can see how I can make them more beneficial, graceful and fun. It is because of these personal experiences and my commitment to my own personal development, that I have seen how things can really change. I want to be able share these insights with people, particularly in showing them how to take the grind out of exercise and how to enjoy their bodies.


References
"Roger's talents are numerous. He is excellent at putting the client at
ease and forming a good rapport. He shares his knowledge and explains
both what he is doing and why so the experience is more of a joint one
rather than having something done to you. He uses the english language
exquisitally to describe and facilitate the process. He has a calming
and understanding manner and is also highly intuitive in the way he
works. Finally I would say his excellent sense of humour and
self-depreciating manner combine to make the experience something I can
honestly say I look forward to every week."